Home » Day Tour » Ubud Surrounding + Waterfall
Ubud Surrounding + Waterfall
Tour Highlights
Elephant Cave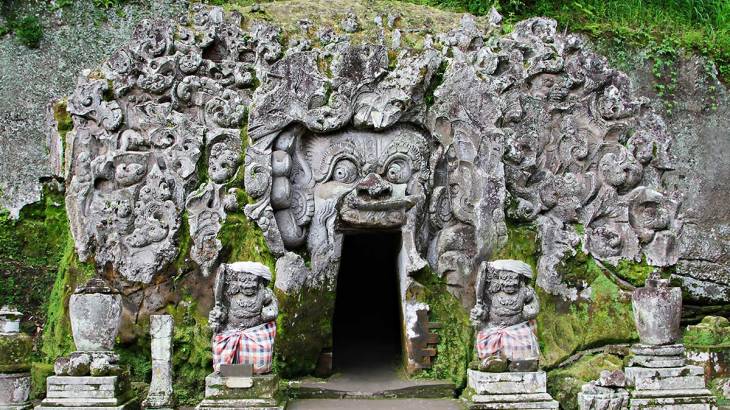 Elephant Cave or better known as Goa Gajah is a place with archeological heritage in form of a cave ornamented by the beautiful relief on the outside wall of the cave. This place is formerly as a park, a place of retreat for Shiva Priest and Buddhist monks. Goa Gajah is located in the west of Bedulu Village, Blahbatuh District, Gianyar which is about 27 km from Denpasar. This cave is built on the brink of a meeting between two small rivers, Kali Pankung, mixed with Petanu River Flows under it. The meeting area of the two rivers is called Campuhan, which is deemed to have magical power based on the concept of Rwabhineda (two differences).
Gunung Kawi Temple
Gunung Kawi Temple is an ancient rocky temple situated in Pakerisan River, near Tampaksiring Village, Gianyar. This archeological complex is carved out of the living rock, dating back to the 11th century. The templewith majesty and richness in history has been proposed by the Governor of Bali to be listed in the world heritage sites.
Tirta Empul Temple
Tirta Empul Temple or Tampak Siring Temple is a holy spring water temple located in Tampak Siring, Gianyar. It is set in the dale and encircled by the hill. On the wst side of this temple, there is an Indonesian President Palace which was found by the first president. The name of Tirta Empul is loaded in a inscription which is kept at Sakenan Temple. In this inscription, Tirta Empul was named Tirta RI Air Hampul and then changed to Tirta Hampul and finally Tirta Empul. Tirta Ri Air Hampul means the water emerges or the holy pool (petirthan) of which water emerges from the land.
Bali Coffee Plantation
Bali Coffee Plantation - The arabica coffee production region is the highland region of Kintamani near mount Batur. Generally, Balinese coffee is processed using the wet method. This results in a sweet, soft coffe with good consistency. Typical flavours are lemon and other citrus notes. A very expensive coffee is Luwak Coffee – a rare and unusual delicacy, collected from the dung of the civet – a wild cat (Paradoxurus – locals call it "Luwak") which lives all over Bali and in other parts of Indonesia. The cats are coffee snobs, eating only the juicest coffee cherries, red berries that are cosidered the best for brewing.
Tegallalang Rice Terrace
Tegallalang Rice Terrace is one of the famous tourist attractions in Bali situated in Tegallalang, noth or Ubud feature by the amazing rice terrace set in the cliff. Tegallalang offers the stunning view of rice terrace that you can see from the main road from Kintamani to Ubud.
Private Tour Only : Rp. 500.000 / car
Min 2 persons and pick up only Ubud central area
Pick Up time at anytime
Booking Form
Contact Us ?